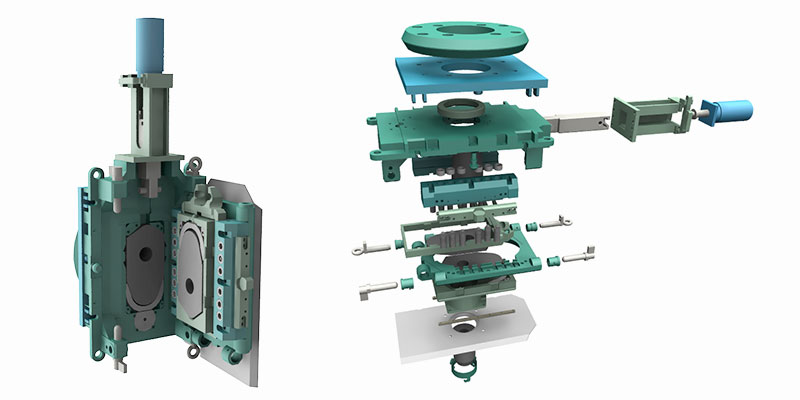 TH440-B90V Ladle Slide Gate
Functional Description: TH440-B90V ladle slide gate is installed on the bottom of ladle, slide gate drives plate throttling achieving the flow control.
1.Type explanation of TH440-B90V
● TH – represents the gate is designed by TaiHe
● 440 – represents the standard length of slide plates is 440 mm
● B – represents the way to opening the gate is "left or right"
● 90 – represents the maximum standard plug hole of slide plates is 90 mm
● V – represents the fifth structure type
2. Main technical parameters
● Dimensions: 1635×655×392mm(L × W × H)
● Stroke: 200mm
● maximum standard plug hole of the slide plates: ф90mm
● Spring type: disk spring
● Spring quantities: 6 x 2 groups
● Operating temperature of spring: ≤450℃
● Spring life: ≥800 heats
3.Construction and principle
The combination of the upper and slider plate is a boundary, housing is fixed on the housing of the bottom of the ladle, support is opening part, and slider is active part.  Upper fixed plate and upper plate are fixed in the housing and slider plate and exchangeable nozzle are fixed in the slider, slider component can slide in the support component. A uniform and constant interfacial pressure is established through the spring component in the plate boundary. Under the working condition, support and housing are hinged together through the safety pin hinge. Pressure is transmitted to plate boundary through the support slide bar and the slider slide bar. Driven by the hydraulic cylinder , thereby achieving the flow control.
New Strategies and Business Decisions
Please contact us, if you need any solution of Ladle Slide gate system, Ladle slide gate,Tundish nozzle, Slide Gate, Refractories.